I went all out and had some me time at the craft desk yesterday afternoon! Did I really have time for it? Probably not! Did I enjoy every moment?! Definitely!
Sometimes I forget what got me started on this little card making journey of mine. I get all wrapped up with DT work (which I thoroughly enjoy, else I wouldn't do it) or with commissions (sometimes working to a particular specification can become a little tedious after a while) that I often don't have time to do just what I want to do.
Yesterday afternoon, that all changed. I decided I wanted to play with my little Distress Inks, create a background and add some cute Christmas characters to them for some little notecards.
Here's what I did!
For the snowman card I began by inking up some Neenah cardstock with Mustard Seed, Peacock Feathers and Tumbled Glass Distress Inks to create an Aurora Borealis look to the sky (the Mustard Seed and Peacock Feathers make the most delicious green). I then added some white embossing paste through a stencil and added fineee, fineee glitter to the snowflakes before the embossing paste dried (hard to see the glitter in the pictures but it's a really lovely effect IRL.
Funny story. The glitter I used was so fine it was like dust and it was lingering in the air once I had flicked the excess from the card. It was lingering in the air so much so, that when I went to blow my nose.. my snot was glittery. I kid you not!
Then for the next step I stamped, coloured, paper pieced and 3D'd up my little snowman from Paper Smooches - Freezy Fellas. I coloured him with my Cool Greys and some oranges for his nose, and then went to town with my patterned papers for his hat, scarf and buttons. I used patterns from Echo Park Winter Wishes pack. I used a sentiment from the Freezy Fellas set which I also stamped onto some more patterned paper and added to the night sky.
As for those little trees, I used the Yeti, Set, Go set from Lawn Fawn which has only recently come out and I am in LOVE with it!!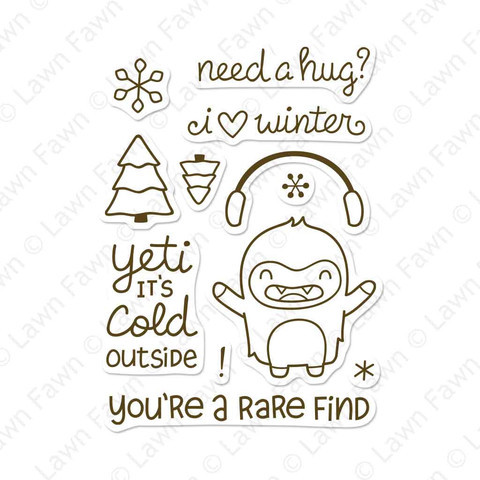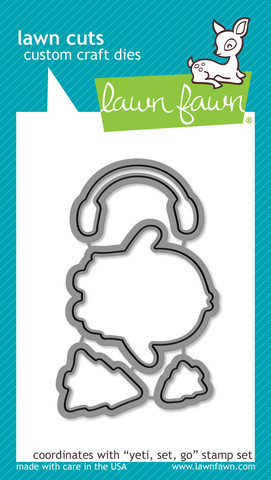 I also used the same set with the coordinating dies for my next card.
This time I began by stamping the snowflakes from the Yeti, Set Go set onto my Neenah cardstock before adding some Violet Pearl embossing powder (again, another detail that my crap photography fails to pick up) over the top and heat setting. I then went in with the same three colours of Distress Ink as before but went over the Mustard Seed with the Peacock Feathers multiple times to get that wonderful green colour just above my hills.
I stamped, coloured, paper pieced and 3D'd my little yeti (LOVE him) before adding him to the little scene with the hills (I inked the edges of those with Tumbled Glass DI) and trees from the set.
I stamped a sentiment from the set onto some more Echo Park patterned paper before adhering everything down with dimensionals and silicone glue.
Ahhh. :)
Two little notecards, perfect for Christmas which I thoroughly enjoyed making with no restraints to work to. Wonderful.
Thank you for looking. xo