with a BANG!!
Just WAIT til you find out what I've been sitting on for the past few weeks. I could die at the thought of being able to tell you all now. HAH!
I'm once again AN ODD GIRL!!
YEAAAHH!!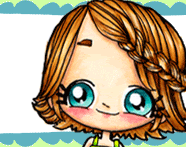 I know. I know. Probably one of the most exciting days of my life. Seriously. If I hadn't been sitting down when Leah emailed me, I woulda been on the floor. GAHH!!
You guys already know how much I L-O-V-E Kristy and her awesome brain. The images she produces for us to colour til our hearts content just blow my mind. I love the whole dynamic of the design team and how fresh and new the girls keep the show! CAN'T WAIT TO GET STARTED!!
So first up.. I'm kicking off with the
SEPTEMBER CHALLENGE
. Make sure you head on over to the
SOG CHALLENGE BLOG
to see the sketch we've whipped up for ya to follow this month.
Here's what I came up with using the gorgeously quirky SUMMER KAYLEE.
You guys already know she's been coloured using ProMarkers and FlexMarkers in my fave combo of orange and turquoise. I've used a new mask and created a background layer of dots. I then used some scraps of paper from My Minds Eye Breeze collection. I've die cut a bunch of pinking circles to create my scallops and wrapped some twine around the space between two of them. Some flowers I received as part of a swap finish of the embellishment nicely. They've been attached using some Doodlebug brads.
Pretty simples card, but these characters always take centre stage!
I hope you can join us this month, be sure to stop by the BLOG to see what the other AMAZE-BALLS girls have created for ya! They'll definitely inspire you.
I'd like to enter this card into these challenges:
- I Love ProMarkers -
Anything Goes
Entry #2
- Nutcrafters -
Fave Colour Combo
- The Perfect Sentiment -
Anything Goes
xo