Hey all, its been a veeeery long day today - was up at 7 to get to uni for a 9 o'clock lecture which lasted two hours, yuck. It was really interesting though, it was about health and infectious diseases in an environmental hazard context. After that I had a quick bite to eat and then I headed straight up to the labs to get some more sample testing done for my dissertation. I got a lot done, more than I thought I would have actually - so I'm back in again tomorrow after dinner to carry out two more tests on 10 samples then I am D-O-N-E with the labwork. Can I get a 'Hooray'.
I came across a sketch yesterday which really inspired me, so I decided to make a few little boys birthday cards - just to keep in my stash last night. I seen the Cosmo Cricket - Lil' Man collection down by the side of my desk - so I set to work.
Here are some of the items I used on both of the cards. I had already precut some card bases earlier last week, I just needed to score them. Some SU! products - Old Olive ink pad and the extra large star punch. I printed some sentiments from my computer using 'junkos typewriter' font. All the paper came from Cosmo Cricket - Lil' Man collection pack.
Here is the sketch I was following: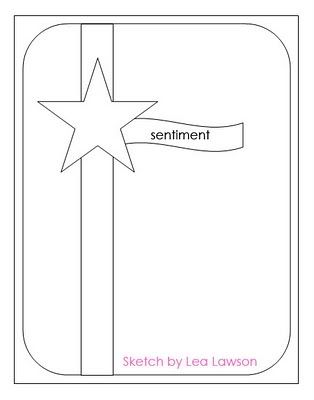 I love the gold eyelets on this card - they are so big and masculine! They're brilliant for threading bakers twine, ribbon and other things through as an alternative to tying a bow or knot.
You just know I had to get a little (a lot) of stitching on these cards! *big grin* I'm officially addicted to my sewing machine! LOL.

I used my Fiskars scallop sentiment border punch for the scalloped border on each card. Really quick and easy. I love the three border punches I have - I have been neglecting them a bit lately, along with a lot of my other tools including my Slice - which I feel really guilty about.
You know what? It felt good using so much patterned paper on one card - usually I hold back. But as you know - its one of my resolutions to not allow myself anymore paper until I make at least 100 cards - so I may aswell use some of the paper I have sitting around doing nothing but looking pretty!!

Anyhoo, I'm going to lie down for a short while to take the weight off of my feet. I have been standing from about half 11 til 5 doing lab work - luckily I managed to get a seat home on the Metro (which is a rarity) if I hadn't I fear my poor legs might have gave way! LOL. I'm going to the darts competition single games tonight, a few of the ladies on my team are playing so I have to make sure I keep them on the right track and give them some encouragement!!

Thanks for stopping by. xo