Soo.. remember a couple weeks ago, when I was ILL and I told you I had been up til the early hours of the morning creating special things.. well THIS is the 'special things' I was talking about!! I was picked for a Some Odd Girl DT Spot from their recent DT call last month!! Yippeeee!! I can NOT contain my excitement ANY longer!! As soon as I seem Kristys images I just knew I would be hooked and now to be an ODD girl myself!! HELLO!! AH-mazing.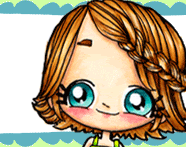 Okay, so today is a BIG DAY for me. Official Some Odd Girl DT member for the August '11 - January '12 term! YESS!! I was over. the. moon. when I got the email off the awesome Kristy. Her images are just perfecto and totally suit my cardmaking 'style'. I love seeing the characters come to life once I've coloured them up plus the SOG community is just an awesome place to be a part of!
So have you guys been following the Intro Days this week?! Head on over to the Some Odd Girl Blog now and check out what has been happening all of this week, and there is still more to come!! Don't forget to comment on the posts to be in with a chance of winning the digi showcased on that day!! Ohhh yeah. We're a generous bunch! ;)
So far this week you've seen:
Monday -
Cheer Kaylee
and
All Star Kody
Tuesday -
Bookbag Tobie
and
Bookish Tia
Wednesday -
Prof. Inch
and
Prof. Hoot
Thursday -
School Mae
and
Punk Kaylee
Friday - Coming tomorrow
STAY TUNED
! ;)
SAY HELLO TO

SCHOOL MAE

!!
She is a new digi from the August Release. Ahhh, that was me not too long ago, heehee. Now I'm just a victim of the world of work. HA! I've coloured her hair and skin using Copics - I soooo gotta work at my skin technique - and the rest of her has been coloured using ProMarkers. All colours are listed at the end if you'd like to browse.
Here is a close up of the little sweetie! :) I have paper pieced her socks with the same patterned paper I've used on the card to tie the two together. I have had a lot of questions about how I get the white dots on their eyes so bright and the answer is simple.. Sakura Souffle in white!! A saviour in the form of a pen! ;) It's magical, quite literally.
I have added the usual WOC goodness. Labels Fourteen is the perfect shape to tuck stuff into. I have stenciled a sky background using Bashful Blue in from SU! behind School Mae, fussy cut the image out and adhered her on top using dimensionals.
Here is a close up of some Ribbon Girl goodness. This is the gorgeous sheer ruffle edge ribbon which I have tied using my bow easy and added a charm. This colour really goes well with the patterned paper from Upcycle. I have used two postage stamp dies from Whimsy Stamps and stamped the sentiment 'You're the best!' As in.. you're the best student. EVA! ;) Or, it could be as a thank you for my graduation card.. or. or. or it could be as in you're the best good luck in your new school. Ahhh the possibilities! ;)
A quick peak at the inside of my card which I have decorated to match the front! :) All edges of cardstock and patterned paper both on the front and inside the card, have been distressed using Frayed Burlap DI and edged with brown doodles!
I would like to enter this card into these challenges:
#these cards have been uploaded to my Flickr gallery
HERE
and my Two Peas Gallery
HERE
.
***************************************************
BUT!! If you can't wait THAT long for some ODD goodness, please pop over to the Some Odd Girl Store now and spoil yourself - and you totally can - know why? BECAUSE WE GOT A SALE ON!!
***************************************************
Supplies:
Cardstock: Bazzil - Kraft
Patterned Paper: Cosmo Cricket - Upcycle
Stamps/Digi: Some Odd Girl School Mae August '11 Digi Release; Whimsy Stamps - Everyday Mini Postage Stamp Sentiments Digi
Ink: DI - Frayed Burlap; SU! Soft Suede
Dies: Nesties - Labels Fourteen; Whimsy Stamps - Mini Postage die
Tools: 1 1/4" square punch
Colour: Copics: Skin E00, 11, 13, R30 Hair E35, 57, 59 ProMarkers: Eyes Pastel Green, Mint Green Shirt and Skirt Lime Green, Bright Green, Grass Jumper Cocktail Pink, Salmon Pink, Carmine Hairslides Cocktail Pink, Bright Green Shoes Henna, Walnut Books Khaki, Pastel Beige, Ivory