.. but to give everyone credit where credit is due, I am JOINT winner with
CARISSA
!! I do NOT envy the Sassy ladies for having to pick! Goodness, the amount of talented ladies who entered just blew my mind. I didn't think I stood a chance! I want to thank all of the Sassy ladies who voted for me and had confidence in my creations!! I will not let you down!! No way, no how!!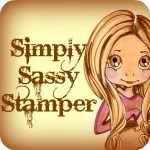 It has literally been KILLING me not being able to tell anyone, and whenever anyone asked I had to act dumb! LOL. I'm sooo happy I can now shout it to the world! I cannot wait to get started and inspire all of the wonderful crafters who stop by the
Simply Sassy Blog
each day for their daily dose of Sassyness!
I had planned on making a card to post with my announcement, but I'm not going to lie.. I messed up the colouring of Oh La La, and I was so annoyed that I had to walk away from it. But I promise I'll be back with a Simply Sassy creation as soon as time allows!
You can check out the rest of the talented DT by clicking on their links on my Design Team Resume page at the top. Enjoy - they really are amazing designers!
As part of the call, we agreed to make a tutorial to share with you all - if there is anything you are interested in me sharing, please give me a shout. I already have a few ideas in mind, but I would love to share something that YOU want to see and will give a go yourselves! Don't hesitate to leave a comment or drop me an email. I'd love to hear your thoughts!!
Thank you for stopping by! :) xo